SEO for food blogs isn't magic. Long-lasting, needle-moving results are the product of consistent effort, good user experience design, quality WordPress support and helpful plugins.
So why is it so hard and confusing and time consuming?
Food blog SEO is dual in nature. You're expected to do a thousand little things right each day while also keeping your eye on the big picture. Throw in life and consistently creating new amazing recipes into the mix, and it's incredibly easy to de-prioritize SEO.
To make our list of 24 SEO tips for bloggers easy to comb through, we've split it two categories:
This way, once you master the beginner tip list, you've got a roadmap for what to tackle next.
A new approach to food blog SEO
A big, whopping, 65-page SEO site audit report in your inbox that tells you to put "this into this field" and "that into that field" is impossible to digest and even harder to implement.
Intellectually you understand the contents of the SEO audit, but what's really hard is applying the tactics at home alone behind your computer.
It's even tougher (impossible?) with a toddler in your lap or a teenager texting you every two minutes.
Guided implementation is how we approach food blog SEO at Foodie Digital. We guide you toward improving your top posts, with manageable monthly assignments.
Because like any recipe you test, food blog SEO requires time, effort and a commitment to see it the process through before you can enjoy the fruits of your labour.
SEO is not a quick fix or a perfect science and your willingness to execute and test concepts, monitor and interpret data, plus your commitment to produce compelling food content that answers a searcher's query, all matter a great deal.
In the past, a lot of fuss has been made about keywords for food blogs. Today using the right long-and medium tail keywords for your food blog's niche is only half the battle.
A significant amount of food blog SEO happens off the post (or page) and under the hood making SEO tactics such as mobile site speed, user experience design, crawl accessibility, a great category structure, a tidy back-end and properly configured plugins, powerful and important.
Ready? Let's dive in.
12 beginner tips for food blog SEO
1. Install and configure Yoast SEO
Yoast SEO is gold standard and an easy and completely free way to begin basic SEO. Once you've installed the Yoast SEO plugin, pay special attention to the plugin's configuration settings under:
search appearance > general
search appearance > taxonomies
The configuration settings should be adapted to suit your site's content and taxonomies. Auditing how Yoast SEO is configured is one of the very first SEO audit tasks we do for new Foodie Digital members.
2. Enable SSL (i.e., https)
A secure website address that begins with https is a must. Credible, professional web hosts hand out free SSL certificates like candy so don't wait to make the change. If your web hosting provider has a dashboard or cpanel that you can access, it's very likely you can enable SSL yourself. Otherwise, hop on live chat with you web host and ask that SSL is enabled.
Once SSL is enabled, log into WordPress > Settings > General and replace http with https in the WordPress Address and Site Address fields. Then, watch out for mixed content.
3. Submit your sitemap in Google Search Console
Submitting your food blog's sitemap to Google is a basic but important task for search engine optimization. It's one of the first things we verify when a new member joins Foodie Digital because it's a task that's so easily overlooked.
Follow our instructions to set-up Google Search Console for your food blog in less than 10 minutes. Then, go to Index > Sitemap and submit your food blog's sitemap. 

4. Install and configure a credible recipe card plugin
Migrating your recipe content into a recipe card plugin grants you the keys to the Google kingdom. Structured data, more specifically JSON-LD Schema Markup, unlocks a long list of possibilities for your recipe content. Rich snippets for your recipes is just one of the many big wins.
Which recipe card plugin is the best and easiest to use? We've broken down the pros and cons, costs and main benefits of the best WordPress recipe card plugins to help you make a decision about which option is the best option for you.
5. Fill out the fields in your recipe card plugin
Consistency is key when it comes to success with structured data. The task of entering recipe ingredients, instructions and more into a recipe card plugin is admittedly a bit tedious but, in this case, short term pain is long term gain. Be thorough, it'll pay off.
6. Fix broken internal and external links
Internal links are links from one post or page on your site to another. These are helpful to users and search engines since they help them discover more content on your site. External links are when you link to sources outside of your URL.
A food blog riddled with broken internal and external links can hurt the user experience, cause visitors to bounce, and impact SEO.
One hidden source of broken external links is reader comments. Be diligent when approving reader comments, and always check the URL in the comment body for a hidden or junk URL.
Broken link checker plugins are also notoriously bloated and can impact site speed. Consider using a third party tool, such as Screaming Frog to stay on top of your broken links or our team at Foodie Digital can generate broken link reports for you.
7. Handle re-directs with care
Mis-handled redirects are a big reason for broken links and 404 page errors, which impact SEO. The most commonly used redirect is 301, which means the page being redirected has moved permanently.
Before you remove the date from your URL, change a URL or delete a post, lean on a credible plugin to help you implement your redirects.
8. Test your mobile site speed
In the spring of 2018 Google announced that it was rolling out mobile-first indexing. A speedy, useful user experience on mobile is must and an important ranking factor for Google.
We're big believers that if you can measure it, you can improve it so test of your mobile site speed and learn where your opportunities are.
9. Hone in on your subject matter area of expertise
Do you have an area of expertise, such as gluten free, dairy free or vegan recipes? Maybe it's meal planning or make-ahead meals. It's important to send clear signals to Google about who you are, what you do, and what you're a trustworthy authority in.
Bake your subject matter expertise into your category structure, your editorial calendar and your site's user experience. Google wants to offer the best possible answers and results to user queries, so if you're an authority in plant-based diets or desserts make it crystal clear.
10. Remove plugins you no longer use
We have yet to meet a new Foodie Digital member that isn't hanging on to a few unused, deactivated plugins. Unused plugins can negatively affect your website's loading speed, which is an important ranking factor for SEO.
It's easy to forget about deactivated or unused plugins so audit your plugin list every few months and remove what's unused.
11. Optimize and compress images
Optimized and compressed images impact site speed and performance by reducing the size of each image in a post or on a page while still delivering high-quality images.
If you have a library of uncompressed images, install an image compression plugin. Not all image compression plugins are created equal, though; we've compiled a list of recommended options.
12. Use an H1 Tag
An H1 or heading 1 is an HTML tag that indicates to search engines that a heading on a webpage, or in a post, is the primary heading. Each page or post needs only one H1 tag. An H1 (as well, as an H2, H3 and so on) is a header that gives context to a page or post. Good user experience site design will automatically include an H1, enhancing the user experience.
12 advanced tips for food blog SEO
1. Use a fast WordPress web hosting provider
We've said it before and we'll keep saying it. Your choice of WordPress web hosting provider will have a big effect on your site speed, up-time, security, your sanity, and much more. Take extra time and do research on the best web hosts for food blogs. The extra due diligence will pay-off in the long run.
2. Check for mixed content
Enabling SSL (i.e., https) can cause a cascade effect, known as mixed content. Mixed content is when you have both http and https on site.
Once you switch to https, everything, including pages, posts, images and ad network tags, needs to be running over https. To resolve mixed content, lean on a useful plugin such as Really Simple SSL.
3. Clean-up your category structure
Is your category structure long, jumbled and all over the map? Unfortunately, a messy category structure impacts SEO in several ways. Unclear or cluttered site categories confuse the reader, and results in a negative user experience. This affects how long a reader stays, or dwells, on your site and their desire to clickthrough to more content. It also hurts your crawl accessibility.
A site with great category structure, does the opposite. Readers can quickly and easily find what they want, which improves dwell time and (hopefully) pages per session if your internal linking strategy is strong. Also, the better your category structure, the easier Google can access, crawl and index your content. Plus, to power a dynamic recipe index your categories need to be in tip top shape.
4. Apply 3-4 internal links in a post
Internal links establish a hierarchy of information on your site. With a solid internal linking strategy in place, you'll proactively show Google the posts and pages on your site that are related, as well as which articles are the most informative and valuable to your audience and ideally those most closely tied to your subject matter area(s) of expertise.
And while links with the anchor "read more" "related" or "click here" are okay once in a while, it is better to have relevant words in your anchor text. For example, if you're adding a link to a post about easy bread recipes, hyperlink 'easy bread recipes' in a sentence, rather than saying 'click here.'
5. Watch your use of tags
Hands down, tags are one of the most misunderstood features on food blogs. Tags are use most commonly used to support reader navigation and to help a visitor move around your site based on a subject they're interested in.
The goal with tags is to tag posts in WordPress with keyword terms that are repeatable topics for you. The ideal result is a substantial numbers of blog entries using the same tag.
Tags should also not overlap or be duplicates of categories. For example, if a post is assigned to the Recipe sub-category "Breakfast" it does not need the tag "Breakfast" but instead tags such as 'plant protein' and 'healthy fats'.
To access your tag list, log into WordPress. Go to Posts > Tags and filter by count to see how frequently (or infrequently!) you use the same tags. (Example account has no tags.)
6. Know if your tags are indexed or not
In Yoast SEO > Search Appearance > Taxonomies check and see if your tags and paginated content are indexed. As a general rule, tags should only be indexed with Google if your tag category archives are full of high-quality content. If your tag list is random and not very helpful your tags should not be indexed.
Leaving these site elements open, infringes on the ability for your post and category archives to rank well. You're allotted a crawl budget, use it wisely.
7. Write alt text for each image in a post
Alt text is an important ranking factor for SEO. It's leaned on by Google in situations where an image isn't displayed to a reader or isn't visible to a reader (i.e., the visitor is using a screen reader for accessibility).
In an image's alt text field, describe in sentence form exactly what's in the image so that search engines and people can make sense of it. Be diligent and write alt text for each image in a post.
8. Write an SEO title for each post
Do not leave a post's SEO title empty!
You apply a post's SEO title in your SEO plugin (i.e., Yoast SEO). Where possible, include keywords in your SEO title as well as your brand/company name (i.e., | Foodie Digital) at the end of the SEO title. Your SEO title does not need to be the exact same as your article title.
The SEO title appears in the web browser tab. It plays a significant role in search and also appears on Google's search engine results page. The length of your SEO title should not exceed 75 characters, fewer than 40 characters is ideal.
9. Write a meta description for each post
Do not leave a post's meta description field empty!
Like the SEO title, you apply a post's meta description in your SEO plugin (i.e., Yoast SEO). A meta description should summarize a page's content but above all entice a reader to clickthrough. As a general rule, the length of a meta description shouldn't exceed 156 characters. 
Also, a post's meta description can be re-written after a post has been published. If you notice that a particular post is highly ranked in Google's search results, but that the clickthrough rate isn't great, consider rewriting your meta description to attract more eyeballs and clickthroughs over time.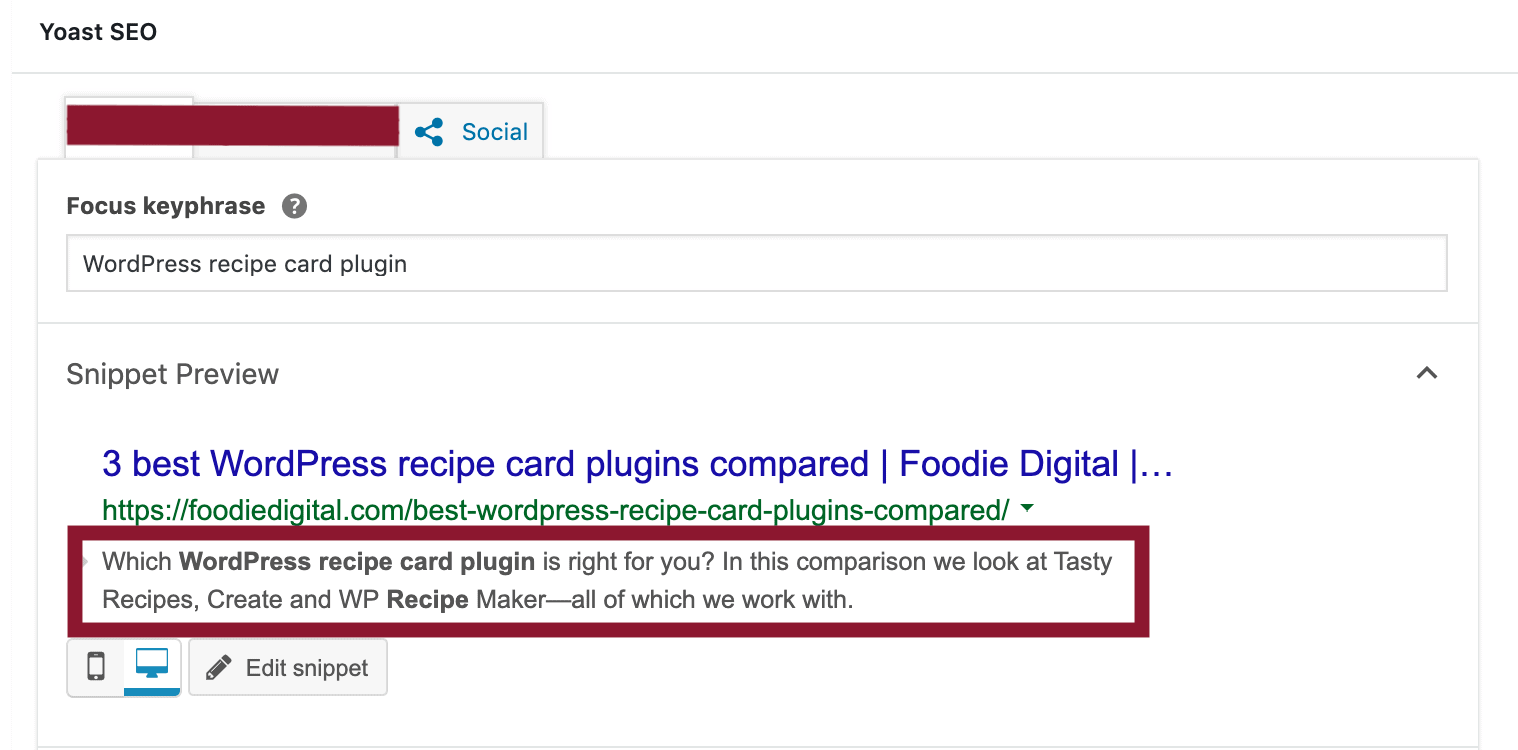 10. Optimize URLs
You don't have to use the default URL (aka permalink) that's automatically created for a post in WordPress. You can edit the URL of a post before it's published, preferably to include keywords. Where possible, keep your URL length to fewer than 90 characters—between 58 and 60 characters is ideal.
It's also best to create an evergreen URL so that it never has to change, even if one day you eventually update the article title or the article information. For example, look at the URL for this post:
foodiedigital.com/seo-tips-for-food-bloggers
Though this post includes 24 SEO tips for food bloggers, we may add a few down the road so we've intentionally left the number '24' out of the post's URL.
11. Know a post's clickthrough rate
Improving the clickthrough rate of a recipe post or article by even a percentage point or two has the potential to significantly boost your organic traffic over time.
In Google Analytics, under Acquisition > Search Console > Landing Pages, look at the clickthrough rate (CTR) percentage for a post. There are a number of different advanced tactics for improving a post's clickthrough rate, the most simple is to re-write the post's meta description so that it's more enticing and click-worthy. Understanding the searcher's intent is another.
12. Earn quality backlinks from different sources
Link building, which is when you earn links from other sites to your own, is one of the biggest factors associated with higher rankings in Google. In the absence of a financial partnership or receiving free product from a company in exchange for exposure, you can earn a do-follow backlink.
A do-follow backlink passes the SEO strength of the site that's linking out on to the page or post that it's linking to. No-follow backlinks do not pass on SEO strength. No-follow backlinks are great to increase exposure, but they have no SEO effect.
The goal with backlinks is to have diversity in the domains linking to you. Earning a backlink from the same site over and over is nice, and may send you referral traffic—which is good too!—but when it comes to straight up SEO, it's better to acquire links from lots of different credible sites in your niche.