If you use WP Recipe Maker and are searching for tips for how you can use the recipe plugin more effectively, this post if for you.
A lot of Foodie Digital members use WP Recipe Maker. Created and maintained by Bootstrapped Ventures, WP Recipe Maker is a widely adopted, and well-thought through recipe card plugin for WordPress.
During our series of onboarding audits we catch a lot of mistakes with how WP Recipe Maker is configured and used, including for nofollow compliance, which we share here for your benefit.
Let's get started.
WP Recipe Maker, the recipe card plugin
WP Recipe Maker has four different bundles:
Like most plugins that follow the freemium model, the free version of WP Recipe Maker is good while the paid versions—premium bundle, paid pro and elite—each offer more advanced and helpful features for food blog SEO.
3 best WordPress recipe card plugins compared

Which WordPress recipe card plugin is right for you? In this comparison we look at Tasty Recipes, Create and WP Recipe Maker.
All versions of WP Recipe Maker are good options for structured data mark-up for Google and Pinterest, including rich pins.
And just like Create by Mediavine, WP Recipe Maker supports HowTo and ItemList schema in addition to recipe-specific schema. This gives food content creators the ability to publish a wide-range of schema-rich HowTo content and recipe roundups, which are then eligible for rich snippets.
WP Recipe Maker and nofollow
WP Recipe Maker allows you to add links to certain fields in the recipe card (such as summary, ingredients and instructions). The link editor is custom (not the standard WordPress link interface), and provides a handy checkbox to tag the links as nofollow for compliance.
However, since the nofollow link checkbox feature is limited to the recipe card editor, a separate nofollow plugin (or approach) is needed to manage nofollow links in your post body content if you create a lot of sponsored content, monetize through affiliate links, or review product that you receive for free. This is not a showstopper, but it's an important detail to be aware of.
By way of contrast, recipe card plugins like Create by Mediavine and Tasty Recipes use the standard WordPress link editor, but add in a nofollow checkbox globally, so that nofollow can be leveraged the same way in both the recipe card and post editor.
Pro Tip! With Create by Mediavine and Tasty Recipes, if you use the classic editor, the nofollow checkbox shows up under the checkbox to open a link in a new window. If you use the block editor it's a differently approach entirely, which we share for your benefit in our post on food blog SEO and nofollow compliance.
Course, cuisine, keywords and diet fields
Completeness is key when it comes to success with structured data so do not skip entering information into these fields. They matter for recipe SEO.
Course and cuisine
WP Recipe Maker includes a dropdown list of terms to choose from for course and cuisine. But you aren't limited to what's in this list. You can add your own terms by typing into each of the fields.
Keywords
The keyword field doesn't include a dropdown list.
Examples of useful keywords to include in the keywords field are those related, but not limited to the season (i.e., winter, spring, summer, fall), holidays (i.e., Thanksgiving, Easter, Hanukah, Christmas) and special occasions (i.e., Halloween, Birthday, Valentine's Day).
Diet
WP Recipe Maker users now have the ability to add Diet metadata (new as of Jan 30, 2020 using suitableForDiet metadata) to specify what type of dietary preference recipes are suitable for.
Diet metadata is disabled by default, but it can easily be enabled in the recipe card setting's. There is a fixed list of options to choose from, including vegan, vegetarian and gluten free and many more.
Video
If producing video content is a part of your content strategy, recipe videos can easily be added to WP Recipe Maker recipe cards. This results in video structured data (such as description, duration, and uploadDate) getting included in the recipe schema output, which is a great thing for video SEO.
Pro tip! We see food bloggers uploading videos directly to the plugin, which isn't ideal for site speed and performance. Instead, embed a Youtube URL, Vimeo URL or a video URL from your ad network into the recipe card.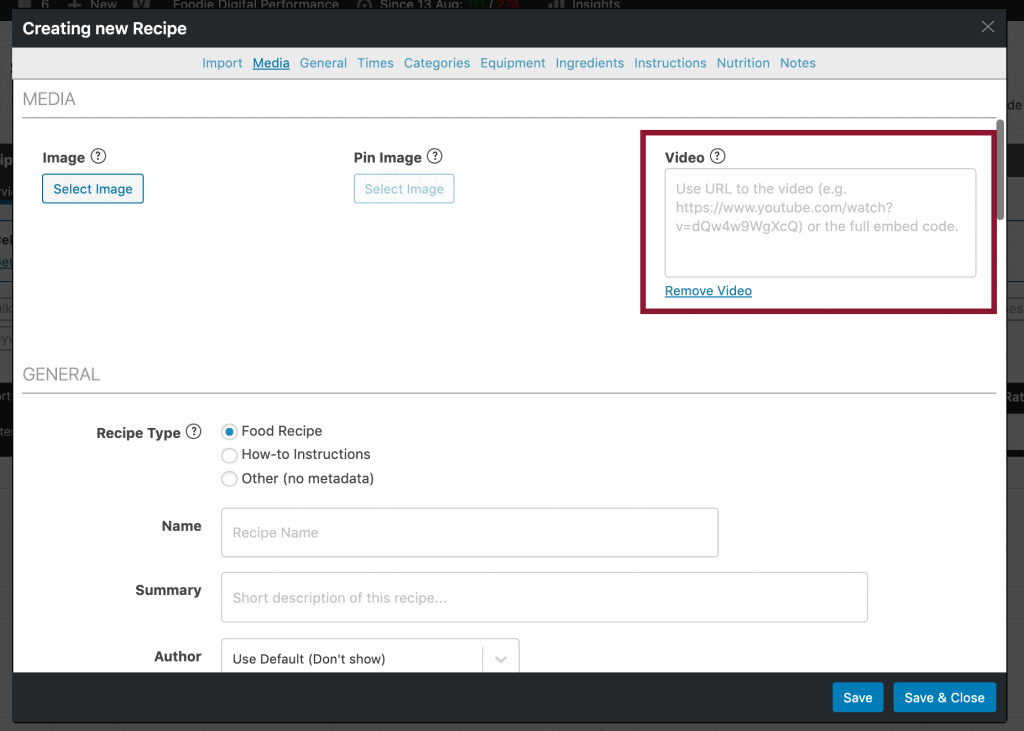 WP Recipe Maker's HowTo instructions
In addition to recipe meta data, WP Recipe Maker can be used to generate HowTo metadata for a wide range of how-to instructions, including non-food recipes.
If you create a lot of HowTo content, such as:
How to cut Brussels sprouts
How to soak navy beans
How to cut and cube a pineapple
How to make sweet potato noodles
then WP Recipe Maker is a good fit for you.
Pro tip 1! A manual action can be issued against your food blog if you mis-use or mix-up Recipe and HowTo schema—even if the mix-up is unintentional. Know when to use Recipe schema specifically and HowTo schema specifically, and then use that knowledge to your advantage.
Pro tip 2! If you mistakenly used recipe meta data for what is clearly a how-to post it's easy to switch between the two templates without losing existing information in the recipe card. Just choose the right template, and then fill in any new fields (i.e., materials).
Using WP Recipe Maker's HowTo template is easy.
Under Recipe Type, select how-to Instructions
Fill in the how-to template's required field (i.e., materials)
In instructions, include a minimum of two steps
Recipe Roundup and ItemList metadata
Recipe roundups are common in the food blogging niche.
They're a good way to resurface and repurpose existing content, and a great chance to highlight recipes from other talent food bloggers in your niche.
The team behind WP Recipe Maker has a set of helpful instructions for any WP Recipe Maker devotees who want to leverage this smart feature.
The free version of the plugin
If you're just starting out, the free version of WP Recipe Maker is a good choice.
Note that there is no way to make ingredient and equipment links nofollow by default in the recipe card's settings. This feature is only possible in the paid bundles. In the free version of the plugin, nofollow has to be applied manually to each and every link. This is not a showstopper, but it's an important detail to be aware of.
Premium bundle — $49 USD per year
If you use ingredient and equipment links (sponsored or affiliate) a lot in your recipe cards, the Premium bundle is a good fit for you.
Pro tip! In the plugin's settings you can enable the nofollow attribute to be added by default to all external ingredient and equipment links. This way, nofollow compliance inside the recipe card is automatically taken care of. Big time saver!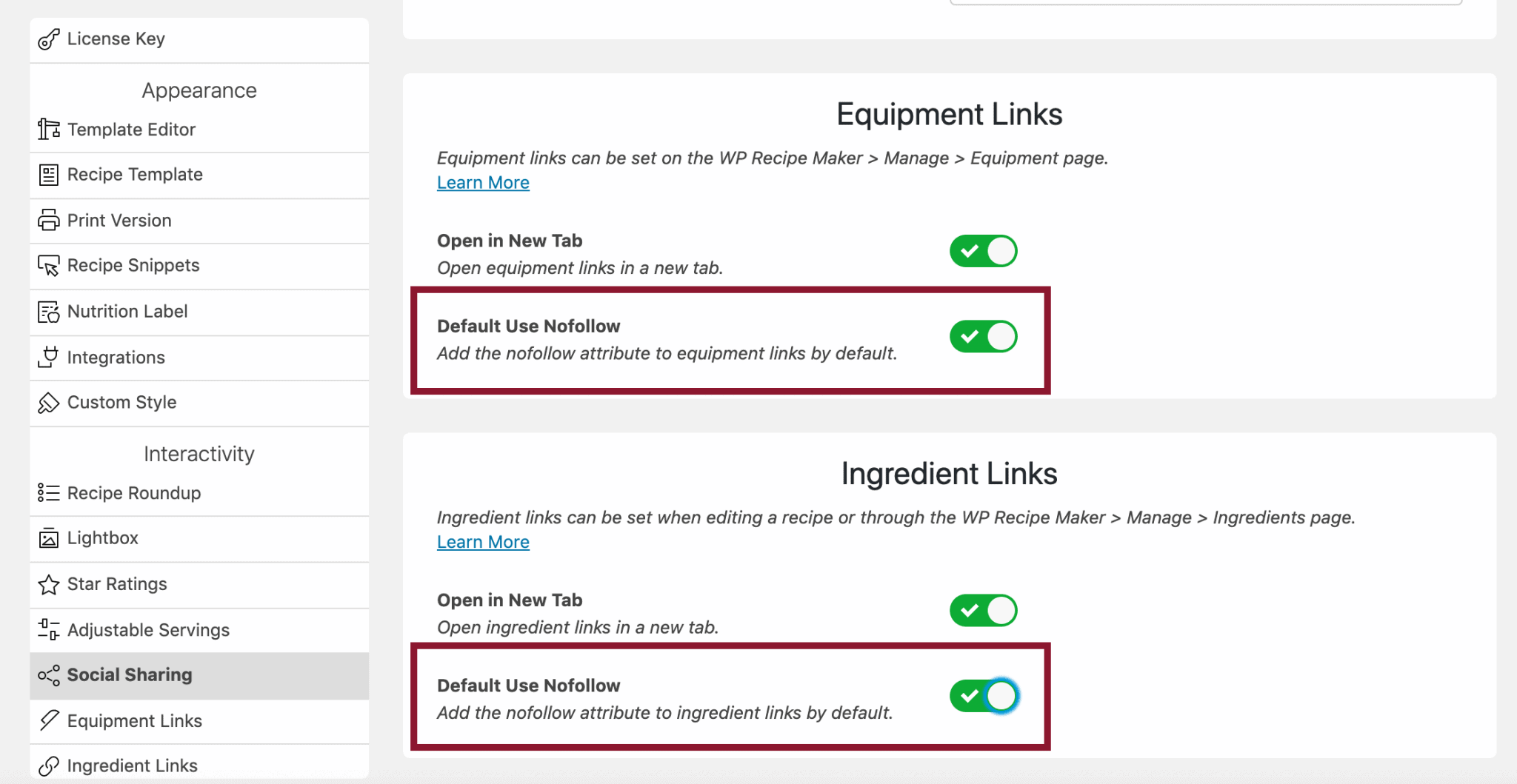 In the plugin's settings you can also include author name with an internal link (i.e., you can link to your about page) so that the information displays in each new recipe card by default.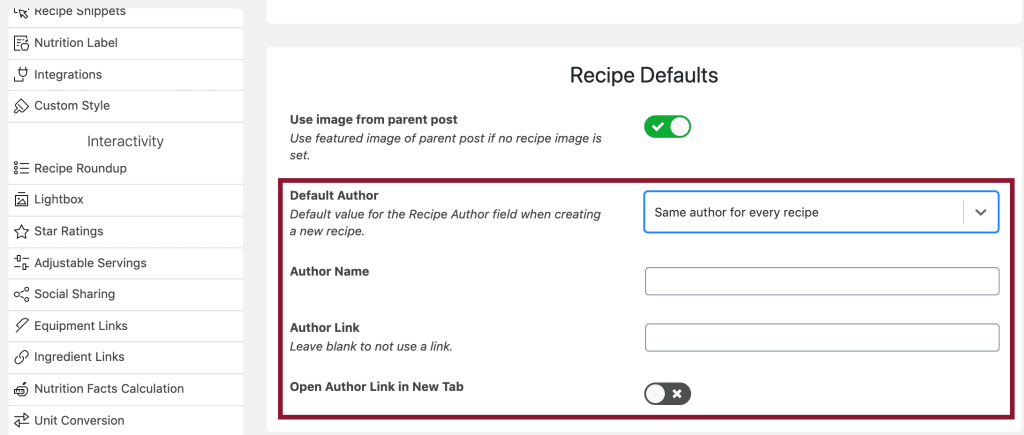 Another big benefit of of the premium bundle is that visitors can leave a star rating without posting a comment. Star ratings provide the possibility for increased clickthrough and conversion rates and are very important for recipe SEO.
Helpful SEO tips for food bloggers

To make our list of 30+ SEO tips easy to comb through we split it into two helpful categories: beginner and advanced tips for food blog SEO.
Pro bundle — $99 USD per year
The biggest difference between the premium and pro bundle is that readers have the option to switch between unit conversions, such as metric and imperial.
There's also the option to use the nutrition API integration, which calculates nutritional values automatically, and you can create your own nutrients for the nutrition labels. This is something a lot of registered dietitians that we work with like about WP Recipe Maker.
Pro tip! From experience, the configuration of the nutrition API does require a developer skill set.
Elite bundle — $149 USD per year
The elite bundle includes two sophisticated features geared toward boosting reader engagement.
Visitors can create their own recipe collections on your site (Google does this too now as of January 2020) and also generate a grocery shopping list for the recipes collected. That, and Elite can field recipe submissions from outside contributors.
If you're managing a large team of contributors, Elite may be the right fit for your business.
Did you find this post helpful?

Post a comment or ask us a question in comments. We read your comments and respond always!
Note: Foodie Digital participates in affiliate programs for select recipe card plugins and hosting providers. The opinions we share are based on our own in-depth research, and the ongoing need for our members to use SEO tools that are future-proofed, credible, professional and well supported.